Miscellaneous Miscellany Monday: 9/22/14
It's been eons since I've done one of these types of posts, so lets get right to it!
1.  I spent a bulk of yesterday prepping my presentation for this coming weekend's annual Cressey Sports Performance Fall Seminar. It's our third go at it and we're expecting a decent sized crowd based off the original sign-up tally
My topic is titled Making Movement Better, where I plan on breaking down some of the big lifts (squats, deadliffts, twerking overhead press, to name a few) and dissecting some of the common mistakes trainees make with their execution, as well as break down a number of the screens and cues I like to use when coaching them up.
It's basically going to win me a Nobel Prize for Awesome.  Either that or people are going to fall asleep (I'm slated to speak right after lunch…LOLz).
With the entire staff slated to speak (Eric Cressey, myself, Chris Howard, Greg Robins, Andrew Zomberg, along with a special cameo appearance by Brian St. Pierre), it's going to be off the hook.  Hudson, Massachusetts will be rocking!
If this is the first you're hearing about the seminar you can still sign-up HERE.
2. Speaking of off the hook, I'd like to take this opportunity to formally welcome our newest addition to the CSP team, Miguel Aragoncillo.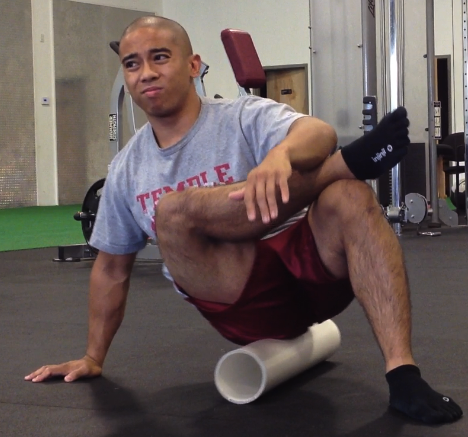 Miguel interned with us back in 2012. Or maybe it was 2013? Whatever, the point is he interned with us. He did an amazing job and was easily one of our most popular coaches to date with the staff as well as with the clients.
Since then he's been working as a part-time coach with another CSP alum, Kevin Neeld, at his facility, Endeavor Sports Performance, located in Pitman, New Jersey.
In addition Miguel has built a bit of a cult following of his own with his blog (HERE) as well as writing for various fitness websites like Stack.com and several others.
When a full-time position became available he was on our short list of coaches to contact. Long story short, he accepted, and we're STOKED to have him on board.
Miguel brings a ton of enthusiasm to the facility as well as a unique dynamic with regards to assessment and movement analysis.
As it happens Miguel is also a very talented dancer, and unbeknownst to me was taping himself when I decided to DO THIS.
There's more where that came from.
3. I don't have the best grip in the world, but I get by. I can say that I've never missed a deadlift because of my (lack of) grip strength, but I also know I'm not performing any cool bar tricks like ripping a telephone book in half any time soon.
Not too long ago I was contacted by the guys over at TNT Personal Training (located in Victoria, BC <—– that's Canada for the geographically impaired) asking me if I'd be interested in sampling their products which, admittedly, are targeted more towards rock climbers.
Basically they make these funky shaped grip-handle thingamabobbers that tend to be very popular with not only their rock-climbing clientele, but their regular personal training clients as well.
I'm game for anything different, so long as I sense some value in how I can apply whatever-it-is to my own athletes and clients.
I see grip training as important, so I was intrigued.
Thom – one of the main honchos – sent me a set of the "Missiles,"pictured first above and I've been including them here and there with my own training, as well as that of my clients.
I can't say it's a game changer, but I do feel they add a bit of spice to training and are worth having as an option.
They offer several different variations – Pipe Bombs, Medium Bombs, Large Bombs, Missiles – and you can check them all out HERE.
Note:  I don't receive any commission or kick-back for providing the link.  I just feel it's a cool product and something that a lot of people would enjoy using.
4. I dragged Lisa to go see the new movie The Skeleton Twins yesterday, starring Saturday Night Live alums Bill Hader and Kristen Wiig.
I say "dragged" because in hindsight, the last thing a therapist (Lisa) – who spends a large portion of her day dealing with people battling depression and in the worse case scenarios, thoughts of suicide – wants to do on her day off is watch a movie about people battling depression and attempting suicide.
It would be akin to me being forced to watch a 90 minute movie of Jillian Michaels trying to teach someone how to squat correctly or perform a kettlebell swing without making a small piece of my soul dying.
This is my public apology to Lisa.
My bad, babe.
I owe you an hour long foot-rub.
That being said, I liked the movie.
But then again, for some reason, I like dark, sad, depressing movies. There were funny moments – particularly a scene where both Hader and Wiig's characters (who play estranged siblings) improvise and lip sync to Starship's Nothings Gonna Stop Us Now –  but this was far, far from your typical comedy.
However, I have to say, I was impressed with the acting chops that both stars showcased. In much the same way how past SNL alums like Bill Murray in Lost in Translation, Robert Downey Jr in Chaplin, Eddie Murphy in Dreamgirls, or Will Ferrell in Stranger Than Fiction, showed off their dramatic talents, Hader and Wiig are equally as commendable.
If dark and sad isn't your cup of tea, though, I'd steer clear.
6.  Lastly, coming off the momentum of London, Dean Somerset and I are looking forward to bringing our updated workshop back to the States.
Spots are still available for our stop in Washington DC in mid-October (HERE), and we've recently added Los Angeles to the mix!
It'll be my first trip to California, so I'll be sure not to pack my Notorious B.I.G t-shirt….;o)
We're hoping to make the LA trip a big event – 714 CrossFit (located just outside Anaheim) has been nice enough to host – with some possible cameo appearances from other fitness big wigs.
For more information on the itinerary, location, cost, and the over/under on whether or not I destroy the back of my pants if there's an earthquake tremor you can go HERE.
Did what you just read make your day? Ruin it? Either way, you should share it with your friends and/or comment below.