Muscle Imbalances Revealed – Upper Body
Okay, here's the deal:  there's no point in sugar coating things.  This is my first product.  Like ever.
<====== Yeah, That One

People have been asking me for some time now when I was going to get off my duff and produce my own fitness product.  Truth be told, it's only been within the past year or two that I've felt "ready" and comfortable enough to take the plunge and jump in headfirst.
To give a little backstory – I entered this industry back in 2002 (before iPads!!!) simply working as a personal trainer at various gyms, trying my best not to suck.  Along the way, I came to the conclusion that I had a few things to say and because I could differentiate between they're/their/and there (and that I had a knack for combining fitness with self deprecating humor) – logically, this meant that I should start writing articles!
Fast forward to today:  I'm one of the featured authors on t-nation.com, as well as Livestrong.com.  I've appeared in Men's Health Magazine numerous times, and I also happen to be the co-owner of a pretty sweet training facility (Cressey Performance, located just outside of Boston, MA).  The logical progression, seemingly, has always been to develop a fitness information product, right?
Well kinda.
Truth be told, if or when I decided I was going to do a product, I didn't want to do it for the sake of just doing it.  I wanted my "first time" to be right.   I wanted it to mean something.  You know, I wanted it to be special.  Something I'd never forget.  So, I did what any warm-blooded strength coach would do:  I splashed on some Old Spice, lit some candles, busted out a little Boyz II Men, and……….oh, wait a minute.  My bad.  Wrong first time!
Actually, to be completely honest, I've seen lots of money hungry people come blazing into this industry, eager to produce their first DVD or write their first E-book only to fall flat on their face because, well, their product ended up being complete garbage.
I didn't want to be that guy. So I waited…
I waited and actually coached people for the past nine years.  I waited and wrote articles.  I waited and built a blog that started with ten readers (on a good day) to now attracting upwards of 2,000+ per day.  Call me crazy, but I waited to actually get good at what I do before I even thought about putting my name on a product.
So, of course, when Rick Kaselj asked me if I'd be interested in contributing to Muscle Imbalances Revealed – Upper Body, along with Dean Somerset and Dr. Jeff Cubos, it seemed like a slam dunk, and I jumped at the opportunity.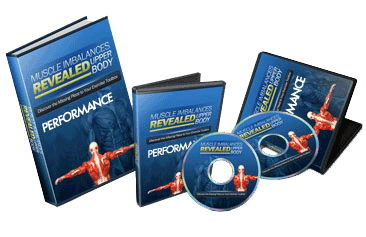 "Perfect," I thought to myself.  What better way to get my feet wet than to collaborate on the sequel to an already highly successful product (Muscle Imbalances Revealed – Lower Body) with a handful of VERY smart guys, whom I HIGHLY respect?
Now, I know what some of you may be thinking:  sequels, for the most part, bite the big one.  And, 99.99% of the time, you'd be absolutely correct.  But, I assure you this isn't Speed 2: Cruise Control we're talking about here.
Hell no!  We're talkin more along the lines of The Godfather Part II territory.  A sequel that, much like the original, definitely holds its own.
To that end, rather than rant and rave about the product itself, by now, you're probably wondering what's included in Muscles Imbalances Revealed – Upper Body.  Well, a lot, actually:
8 Killer Presentations
***sneak peaks below
1.  Corrective Exercise Strategies for Overhead Athletes (and Meatheads, Too) – Tony Gentilcore
2.  Avoiding Common Programming Bloops and Blunders – Tony Gentilcore
3.  Myofascial Training for the Upper Body – Dean Somerset
4.  Advanced Core Training and Conditioning – Dean Somerset
5.  Linking Breathing with Rehab, Training, and Performance – Dr. Jeff Cubos
6.  Picking the Right Soft Tissue Tool for the Problem – Dr. Jeff Cubos
7.  Unraveling Muscle Imbalances in the Shoulder – Rick Kaselj
8.  Neck Exercises for Prevention, Rehabilitation and Strength – Rick Kaselj
What's more, Rick has included literally TONS of great bonuses into the mix, and if that wasn't enough, you can also earn Continuing Education Credits (CECs) as well.
So, whether you're a personal trainer, strength coach, physical therapist, athletic trainer, or just someone who likes to lift heavy things and get his or her nerdification on, I truly feel that this product wil not only serve as an invaluable resource for you and your athletes/clients, but will also help to take your knowledge base to a whole new level.
I don't really know what else to say, other than if you don't buy this product a kitten dies* and you'd be remiss not to take advantage of the introductory sale price – running from now until this Thursday (August 11th) which saves you $50 off the regular price.
NOTE:  For those willing to do so, leave a comment in the comments section asking any questions about MIRU that you may have.  Thus far, the feedback we've been receiving is great, but I'd be looney to think that we're going to please everyone.  So please, share any comments, concerns, tidbits of awesomeness you may have below!
* Okay, not really.  But seriously, a rainbow will cry.
Did what you just read make your day? Ruin it? Either way, you should share it with your friends and/or comment below.